High current density power MOSFETs are paralleled into a compact, high power module providing the best combination of switching, ruggedized design, very low on-resistance and cost effectiveness. The isolated SOT-227 package is preferred for all commercial-industrial applications at power dissipation levels to approximately higher than 500 W. The low thermal resistance and easy connection to the SOT-227 package contribute to its universal acceptance throughout the industry.
Features
Fully isolated package
Very low on-resistance
Fully avalanche rated
Dynamic dV/dt rating
Low drain to case capacitance
Low internal inductance
Optimized for SMPS applications
Easy to use and parallel
Industry standard outline
Compliant to RoHS Directive 2002/95/EC
Designed and qualified for industrial level
Item #
IFAV (A)
VRRM
Package
Circuit
RDS(on) (ohms)

VS-FC270SA20

270
200 V
SOT-227
Single Switch
0.0047

VS-FC420SA15

400
150V
SOT-227
Single Switch
0.0028

VS-FC80NA20

100
200 V
SOT-227
High Side Chopper
0.0140

VS-FC420SA10

420
100 V
SOT-227
Single Switch
0.0021

VS-FC220SA20

220
200 V
SOT-227
Single Switch
0.0070

VS-FB190SA10

190
100 V
SOT-227
Single switch
0.0065

VS-FA72SA50LC

72
500 V
SOT-227
Single switch
0.0800

VS-FA40SA50LC

40
500 V
SOT-227
Single switch
0.1300
Hitachi ABB SiC LinPak
Hitachi ABB Power Grids introduces new innovative, low stray inductance SiC and IGBT modules.
Learn More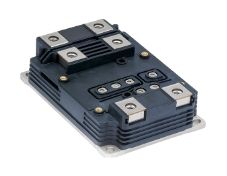 Vishay Power Modules
Three Phase Bridge Rectifier 5 Terminal 130A , 160A, 300A, 1600V, and 1800V
Learn More