C&H Technology offers standard assemblies in single or three phase configurations of Rectifier (Diode) Bridge, Thyristor (SCR) Bridge, and AC-Switch circuits. Our Standard Water-Cooled Assemblies utilize our premier inventory of Hockey Puk Semiconductors affixed to our Copper Chill Blocks for devices up to 3 inches in pole-face diameter. Our engineering team is on standby to help design, develop, and manufacture a liquid cooled assembly tailored to any high power application.
Hitachi ABB SiC LinPak
Hitachi ABB Power Grids introduces new innovative, low stray inductance SiC and IGBT modules.
Learn More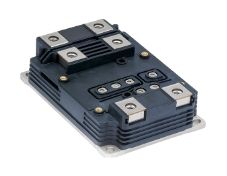 Vishay Power Modules
Three Phase Bridge Rectifier 5 Terminal 130A , 160A, 300A, 1600V, and 1800V
Learn More