C&H Technology has partnered with Powerex & Vishay to provide a wide variety of IGBT modules to the industrial power electronics market. These high efficiency IGBT modules from Powerex and Vishay feature industry standard packages with your choice of pt or npt silicon. These modules are ideal choices for high frequency power applications such as: Welding, Battery Charging, Motor Drives, UPS Power Supplies, Traction Inverters, Power Factor Correction Systems and Switch Mode Power Supplies. Low thermal resistance combined with low Vce(on) silicon allow the IGBT module to operate at higher case temperatures while maintaining the operating junction temperature within safe limits. We also offer RC snubbers, flyback diodes and IGBT heat sink assembly products
Modules
IGBT modules (Insulated Gate Bipolar Transistors) combine the simple gate-drive characteristics of MOSFETs with the high-current capability of bipolar transistors by combining an isolated gate FET for the control input and a bipolar power transistor as a switch in a single device. IGBT modules are used in medium- to high-power applications such as traction motor control, switched-mode power supplies and induction heating.
Features
Industry standard and custom package styles
Choice of pt and npt IGBT technologies
Low -Vce(on) IGBT
Switching frequency from 1 kHz to 150 kHz
Rugged transient performance
High isolation voltage (2500 V)
Low thermal resistance
Wide operating temperature range (-40 ºC to + 150 ºC)
UL - approved
Applications
Industrial high frequency welding power supplies
Switchmode power supplies
Uninterruptible power supplies
Motor drives
Power factor correction
View Modules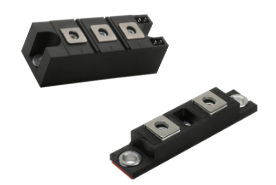 Hitachi ABB SiC LinPak
Hitachi ABB Power Grids introduces new innovative, low stray inductance SiC and IGBT modules.
Learn More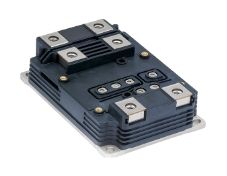 Vishay Power Modules
Three Phase Bridge Rectifier 5 Terminal 130A , 160A, 300A, 1600V, and 1800V
Learn More